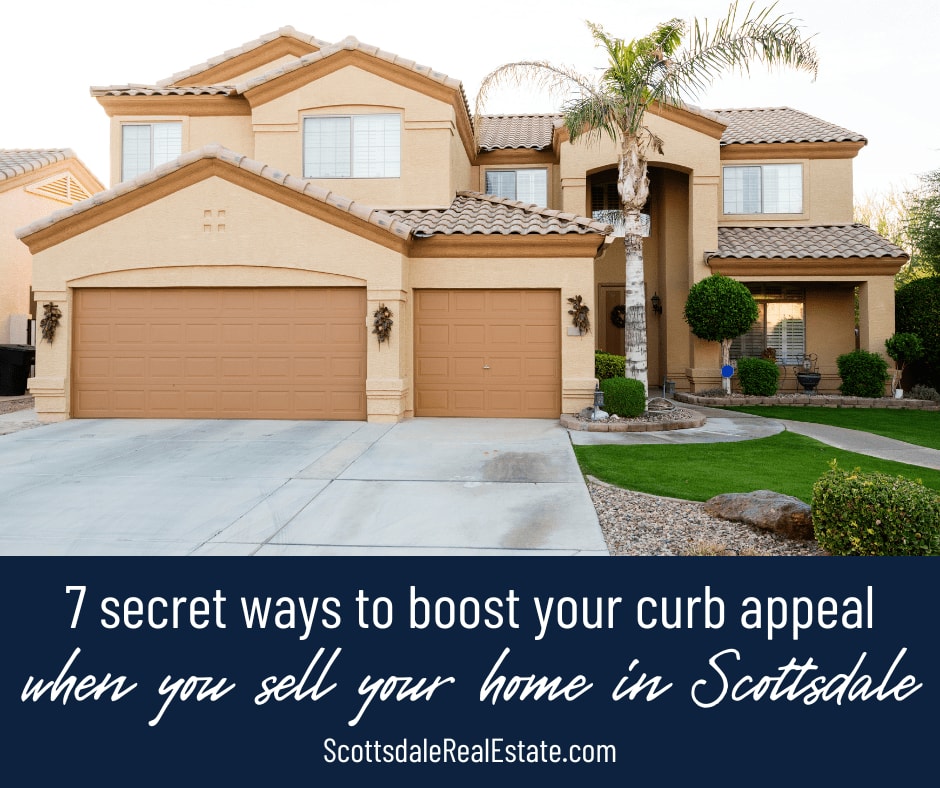 Selling your home in Scottsdale this summer? You're in luck! The sunny season is the perfect time to showcase your property and make it shine. And, with a few secret tricks up your sleeve, you can maximize your home's curb appeal and leave potential buyers scrambling to make an offer. In this guide, we'll share seven of our favorite tips for boosting your home's curb appeal and ensuring a successful sale.
7 Secret Ways to Boost Your Curb Appeal When You Sell Your Home in Scottsdale This Summer
This guide explains the following ideas that can help you improve your home's curb appeal to impress prospective buyers:
Refresh Your Landscaping
Add a Splash of Color
Give Your Front Door a Makeover
Pressure Wash Surfaces
Update Outdoor Lighting
Create a Welcoming Entrance
Stage Your Outdoor Living Space
Here's a closer look at each.
Refresh Your Landscaping
A well-manicured lawn is the foundation of a home's curb appeal. Trim back overgrown bushes, trees, and hedges, and remove any weeds or dead plants. Add fresh mulch to flowerbeds and consider planting a few low-maintenance, drought-resistant plants to create a polished, desert-friendly landscape.
Add a Splash of Color
Brighten up your home's exterior with pops of color. Plant vibrant flowers in pots, window boxes, or garden beds to catch the eye and make your property stand out. You can also accessorize with colorful outdoor furniture, pillows, and decor to create a cohesive and inviting look.
Give Your Front Door a Makeover
Your front door is the focal point of your home's exterior, so make sure it stands out! Consider repainting it in a bold, contrasting color that complements your home's style. Replace dated hardware with modern fixtures, and add a stylish door knocker or house numbers for a polished look.
Pressure Wash Surfaces
Cleaning your home's exterior is an easy way to make it look fresh and well-maintained. Use a pressure washer to remove dirt, grime, and mildew from your siding, driveway, walkways, and any other surfaces that could use a deep clean. This simple step can have a dramatic impact on your home's curb appeal.
Update Outdoor Lighting
Proper lighting is essential for showcasing your home's best features and creating a welcoming atmosphere. Replace any outdated or broken light fixtures with stylish, energy-efficient options. Add solar-powered pathway lights, spotlights to highlight architectural features, and string lights to create a cozy ambiance in outdoor living areas.
Create a Welcoming Entrance
Make your home's entrance inviting and memorable for potential buyers. Add a stylish welcome mat, seasonal wreath, or potted plants to create a warm and inviting atmosphere. Ensure your entryway is clean, clutter-free, and well-lit to make a great first impression.
Stage Your Outdoor Living Space
Don't forget to stage your outdoor living areas! Arrange patio furniture, outdoor rugs, and decor to create a cozy and inviting space that potential buyers can envision themselves enjoying. Showcase any unique features, such as a built-in barbecue, fire pit, or pool, to highlight the luxurious lifestyle your home has to offer.
FAQ About Boosting Curb Appeal in Scottsdale
Check out these commonly asked questions about boosting curb appeal in Scottsdale. If you don't see the answers here, please call our office and we'll get you the information you need.
Q: How much should I invest in improving my home's curb appeal?
A: Focus on cost-effective improvements that will have the most significant impact. Small changes like refreshing landscaping, painting the front door, or updating outdoor lighting can make a big difference without breaking the bank.
Q: Is it worth hiring a professional landscaper to improve my curb appeal?
A: If your yard needs extensive work or you don't have the time or expertise to tackle the project yourself, hiring a professional landscaper can be a worthwhile investment. They can help create a low-maintenance, attractive landscape that appeals to buyers.
Q: How important is curb appeal when selling my home in Scottsdale?
A: Curb appeal is crucial for making a strong first impression on potential buyers. A well-maintained, attractive exterior can help your home stand out from the competition, attract more interest, and potentially lead to a higher sale price.
Q: Can I boost my curb appeal even if I have a smaller budget?
A: Yes, there are many budget-friendly ways to improve your home's curb appeal. Focus on simple, impactful updates like cleaning your home's exterior, adding colorful plants, or updating your front door with a fresh coat of paint and new hardware.