Those looking for a new home in a sunny community may want to check out some of the properties listed in the beautiful city of
Scottsdale
in Arizona.
Located in the eastern part of Maricopa County, Scottsdale was named after Winfield Scott, a retired US Army chaplain who founded the city in 1888. Dubbed the "The West's Most Western Town," Scottsdale currently has an estimated population of 258,069 – a far cry from the 2,000 residents logged during its incorporation in 1951.
Scottsdale is bordered by the Arizona cities and towns of Phoenix and
Paradise Valley
on the west, the Tonto National Forest on the north, Tempe on the south, and Fountain Hills and the McDowell Mountain Regional Park on the east.
As Scottsdale is located in the northern reaches of the Sonoran Desert, the city enjoys an arid climate, making it the perfect spot for those who wish to live in an environment that's sunny and warm for most of the year.
Because of the city's warm weather and abundance of sunshine, Scottsdale is home to luxury resorts and spas, the majority of which cater to tourists from the Midwest, the Northeast, and even places as far away as Canada.
In addition to the city's attractions, Scottsdale is also considered to be among the most livable in the country – a reputation attributed to the high quality of life it offers residents.
And nothing speaks of the city's superior quality of life more than Scottsdale's golf courses.
How Scottsdale, AZ Became the World's Finest Golf Destination
Scottsdale is home to more than 200 golf courses, not to mention countless golf-related facilities and stores that seal the city's reputation as a golfing community.
While Scottsdale is now known as The World's Finest Golf Destination, it wasn't always a sought-after golfing hotspot.
City historians say it was only in 1920 that golfers realized that the arid weather in the Sonoran Desert, specifically the Phoenix area, was the perfect place to keep playing golf even during the winter. Those quick to spot a business opportunity immediately jumped on the chance to start building what would become the best golf courses in Scottsdale, the first of which was located on Indian School Road.
Golfing's popularity in the city soon led to the founding of the Phoenix Open during the 1930s. This event saw Hollywood giants, Bob Hope and Bing Crosby, in attendance. Their appearance brought the public's attention to this neck of the Arizona woods, while a flurry of construction soon followed. Developers were in a race to design and build the most beautiful, if not the best, golf courses in the city.
The Best Golf Courses in Scottsdale, AZ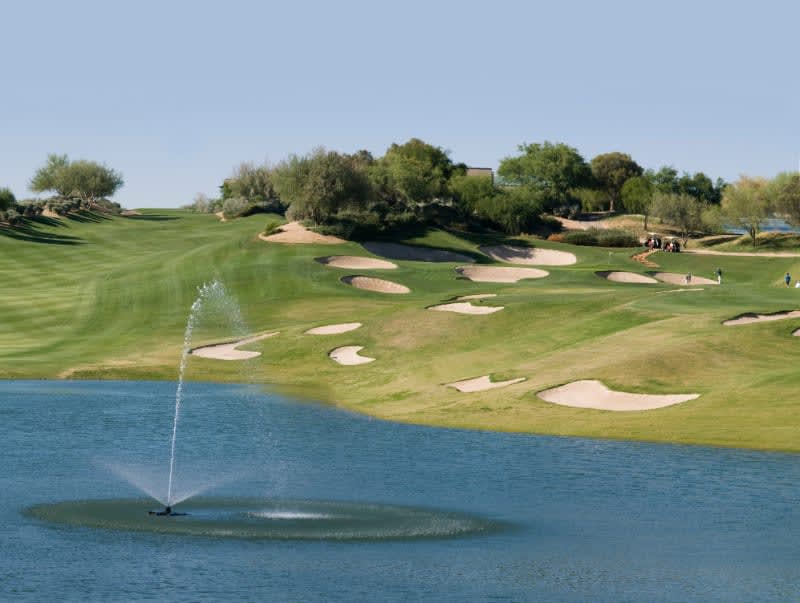 Best Golf Courses in Scottsdale

Of the hundreds of greens in and around Scottsdale, the following stand out:
7020 North Hayden Road, Scottsdale, AZ.
Located just outside of Scottsdale, TPC Scottsdale is best known for playing host to the PGA Tour's Waste Management Phoenix Open. It's also the home of the legendary Stadium and Champions golf courses. Dubbed by Golfweek Magazine as "One of America's Best Course" and by Condé Nast Traveler as being among the "Top 50 Golf Resort Destinations in the World," TPC Scottsdale boasts undulating fairways, lush, well-maintained, and manicured greens, and challenging bunkers – all while offering breathtaking and scenic views of the McDowell Mountains.
6000 East Camelback Road, Scottsdale, AZ.
Designed by architect Phil Smith, The Phoenician Golf Club is a public, resort-style 18-hole golf course located in the Sonoran Desert. Managed by Troon Golf Management, this particular golf course is known for putting the golfer's needs at the forefront. Here, there are no surprise bunkers or blind hazards, only courses designed to provide a natural rhythm and flow to the players. The par-71 course offers four sets of tees, ranging from 4,575 yards from the forward tees to 6,518 yards from the players' tees. Players and their guests are also welcome at the 2,200-square foot The Phoenician Golf Shop, stocked with men's and women's golf apparel, accessories, and souvenirs. Well-appointed locker rooms and the 19th Hole dining venue are the cherries on top of the superb facilities.
34631 N Tom Darlington Drive, Carefree, AZ.
An exclusive, members-only facility found in the Sonoran Desert, The Boulders is all about luxury and relaxation. Boasting two world-class, 18-hole championship courses, The Boulders provides its members unparalleled service – along with awe-inspiring views of the massive granite boulder formations from which it gets its name. Not only that, but beginners also have the chance to hone and polish their golf skills by signing up for classes at The Boulders Golf Academy. Aside from its premier golf courses, The Boulders also offers elegant accommodations, a 24-room spa, seven tennis courts, and four pickleball courts (inclusive of private lessons and weekly clinics for those who would like to use both ball courts). There are also four swimming pools and a top-notch, fully equipped fitness gym. Feeling hungry? Don't worry because The Boulders has not one, not two, but five unique restaurants and cafes on its premises, all of which are known for their sumptuous food selections.
13100 Sunridge Drive, Scottsdale, AZ.
Located within The Club at ADERO, the Marriott Group's newest resort in its Autograph Collection, SunRidge Canyon Golf Club is an exclusive 18-hole golf course that's perfect for desert golf enthusiasts. Consistently ranked among Golfweek's "Best Courses You Can Play" list, SunRidge Canyon Golf Club is also known for having one of only five Hot Stix state-of-the-art club-fitting facilities in the United States. If you're new to the sport, members can arrange for expert lessons from a resident pro. In addition to its golf course, The Club at ADERO also boasts a new 7,000- square-foot Wellness Center that's equipped with the latest cardio and strength-training equipment, as well as a complete Peloton studio. The facility also offers group fitness classes and personal lessons. Those who wish to engage in outdoor sports and recreation, meanwhile, are more than welcome to take part in The Club's well-regarded tennis and pickleball programs or take a dip in the resort and lap pools. You can go on hikes and cycle across The Club's trails; all feature breathtaking views of the majestic Four Peaks, the beautiful Superstition Mountains, the striking McDowell Mountain, and the expansive Sonoran Desert.
18731 East Four Peaks Boulevard, Rio Verde, AZ.
Located just minutes from Scottsdale, Rio Verde features golf courses with a soft midwestern desert look. Renovated by professional golfer Tom Lehman, Rio Verde boasts two distinct courses named Quail Run and White Wing, each of which offers a unique golfing experience. Quail Run, for instance, is a traditional golf course, while White Wing is more of a links-style one. However, both courses share two things: meticulously groomed fairways as well as outstanding mountain and desert views.
Living the good life in Scottsdale, AZ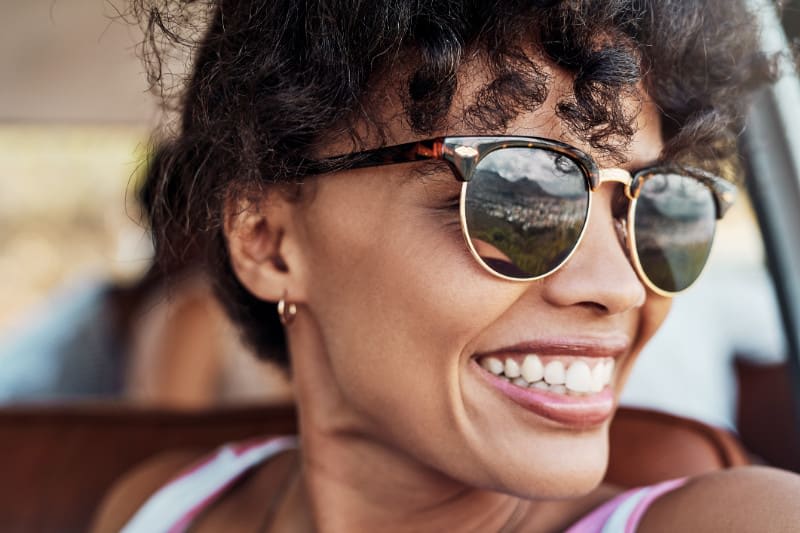 A cropped shot of a woman enjoying a road trip
Golf isn't the only reason Scottsdale is such a livable city. Here are some of the things that make it perfect for just about everyone.
Scottsdale is a city of jobs and business opportunities.
Scottsdale's economy is largely dependent on tourism, with the city hosting over 9 million visitors annually. These visits generate $3.7 billion dollars for the city. A tourist mecca, Scottsdale is known for having the highest number of spas and resorts per capita of any city in the United States. Notable among them are The Phoenician, The Canyon Suites, the Four Seasons Resort Scottsdale at Troon North, and the Fairmont Princess Resort and Spa. Other industries such as technology, finance and insurance, real estate, social services, healthcare, and food services also fuel Scarsdale's economy. With more than 25,000 businesses as of the last count, Scarsdale consistently ranks high when it comes to providing employment opportunities to residents, with WalletHub even naming the city as the best place in America to find a job.
If you're planning to raise a family or at least put down roots, Scottsdale and its surrounding communities may just be the right city for you. FBI data shows that compared to other communities with a similar size and population (250,000 as of 2019), Scottsdale has fewer crimes.
Scottsdale abounds in gastronomic delights.
If you're always on the lookout for that next delicious culinary adventure, Scottsdale, Arizona, and its multitude of restaurants and dining establishments have you covered. For what it calls "vibrant French Mediterranean cuisine," book a table at
FRANCINE
, the newest restaurant of acclaimed French-born restaurateur, Laurent Halasz. For being fresh, seasonal, and full of flavor, the menu pays tribute to the home-cooked meals the owner's mother used to make. If you ever find yourself in the mood for some good old-fashioned Southwestern and Sonoran cooking, a visit to
Old Town Tortilla Factory
at Scottsdale's East Main Street just might be all that you need. Best known for its scrumptious tacos, enchiladas, and grilled selections, Old Town Tortilla Factory is also known for its world-renowned tequila bar that offers a whopping 140 premium variants of the popular alcoholic beverage. Hankering for fresh seafood?
Chula Seafood
is a popular, family-owned establishment serving sustainably sourced, high-quality catch. Taste the freshness in the restaurant's scrumptious spicy tuna bowls and the freshest sashimi platters. Fans of Latin American and Spanish cuisine should make a beeline to
Talavera
, which offers a stunning selection of traditional fare such as paella, gambas al ajillo, as well as authentic jamón ibérico. For vegan and vegetarian offerings,
FnB
might be the restaurant for you. As the darling of the Scottsdale culinary scene, FnB is best known for its dynamic, ever-changing menu as well as its commitment to source its ingredients from vendors and farms located in Scottsdale and its nearby communities. Owner-chef Charleen Badman was awarded Best Chef in the Southwest in 2019 by the James Beard Foundation.
Scottsdale is home to upscale shopping.
Those who missed visiting brick-and-mortar shops to indulge in some good, old-fashioned retail therapy will be delighted to know that Scottsdale – nicknamed the "Beverly Hills of the Southwest" – is home to a multitude of upscale shopping centers, including the famed Scottsdale Fashion Square, Kierland Commons, and Scottsdale Quarter. A fashion center unlike any other,
Scottsdale Fashion Square
houses nearly 200 high-end retailers and brands under its roof, including luxury labels such as Prada, Gucci, and Louis Vuitton. Located across Scottsdale Road from the Quarter,
Kierland Commons
, on the other hand, is an outdoor shopping center filled with signature merchandise from Coach, Michael Kors, Eileen Fisher, Sundance, and White House|Black Market. Much like Kierland Commons,
Scottsdale Quarter
is an upscale, outdoor shopping destination that hosts some of today's most sought-after fashion, beauty, and lifestyle brands and services. You'll find Kendra Scott, Free People, Bonobos, Warby Parker, Planet Blue, L'Occitane, Restoration Hardware, and Lululemon Athletica. Scottsdale Quarter is also home to some of Arizona's best dining establishments such as Dominick's Steakhouse, True Food Kitchen, SOL Mexican Cocina, and Breakfast Kitchen Bar.
Real Estate in Scottsdale AZ: Finding your new home is a breeze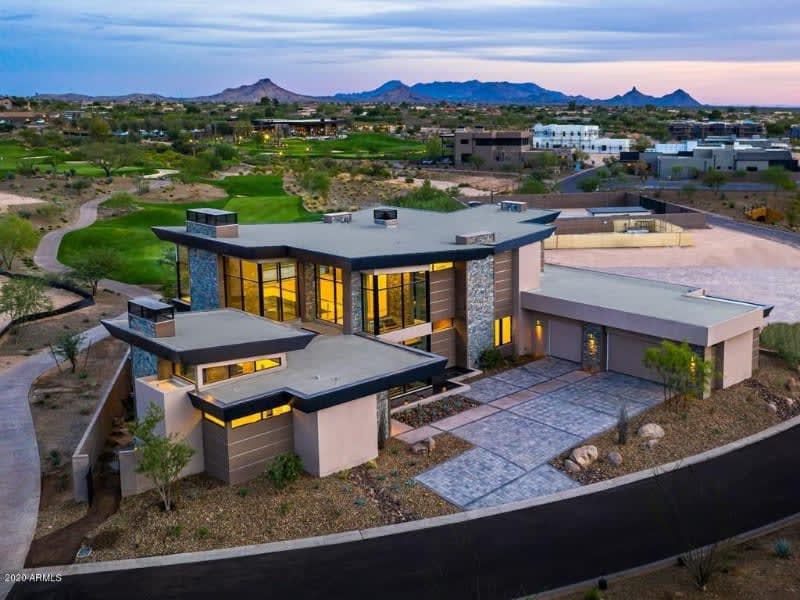 Exterior of a house with golf course views in the background
Sweeping mountain and golf course views surround this newly built 9,567-square-foot custom home in Scottsdale.
With amenities designed to cater to residents used to the finer things in life, as well as opportunities that promise a pathway to achieve that dream, Scottsdale offers some of the most coveted houses and real estate properties on the market today. Buyers are spoilt for choice, with everything from sprawling single-family homes to luxury condominiums in the offing.
Throw in the beautiful, natural scenery and 330 days a year of swimming pool weather ("You don't have to shovel sunshine. Ever," exhorts a
tourist site
), and Scottsdale makes it clear that it is one of the most desirable cities in the central Arizona area.
➔Search Scottsdale golf community homes for sale here.
One particularly popular architectural style in Scottsdale is Mid-Century Modern, which was popularized by architects Al Beadle and Ralph Haver in addition to Frank Lloyd Wright.
An example of this is "Shadow Caster" at Desert Mountain, which boasts an area of 6,852 square feet, beautiful concrete and steel structures, as well as impressive floor-to-ceiling glass walls overlooking the breathtaking city, mountain, and golf course views.
Designed by renowned architect David C. Hovey and constructed by Optima Development, "Shadow Caster" has 5 bedrooms, 5 bathrooms, a fully furnished kitchen, a heated swimming pool, and a 3-car garage.
Another popular style in Scottsdale is Spanish Mission, which is characterized by the heavy use of stucco, plaster, and adobe brick, as well as the use of architectural features such as archways and enclosed courtyards.
One example of this is the Silverleaf estate at Rimrock Drive. The house has a gated entrance, an extended driveway, and a grand motor court. The estate, which has an area of 13,111 square feet, also has 6 ensuite bedrooms, 8 bathrooms, a chef's kitchen, and a 2-bedroom guest home.
➔Search Scottsdale golf community homes for sale here.
Due to its rich history and its dynamic environment, the architecture in Scottsdale – and by extension the rest of Arizona – is diverse. In addition to Mid-Century Modern and Spanish Mission, you'll find stunning examples of Ranch, Contemporary, and historic homes.
The Titus House, built in 1892 and the only remaining Victorian residence in Scottsdale is now listed on the National Register of Historic Places.
Frank Lloyd Wright's Taliesin West is also historically significant. It served as the famed architect's personal winter home, studio, and architectural laboratory. Taliesin West's walls are made of local desert rocks, all stacked within wood forms, and then filled with concrete. As with all of Wright's work, natural light is a major component of the home. Experts have described the home as "Idiosyncratic Modern."
The time to buy is now.
With Scottsdale's solid reputation as a residential community, amenities that are second to none, a rich history, and over 200 golf courses, homes here don't stay on the market for long.
For buyers keen on securing a home near the best golf courses in Scottsdale, AZ, the
Matheson Real Estate Team
is ready to open doors and opportunities.
Composed of passionate and driven real estate agent and agents, this award-winning and industry-recognized team operating under Re/Max Fine Properties has sold more than $1 billion in real estate and over 2,500 properties.
Led by Jenny and Don Matheson, the Matheson Real Estate Team embodies the qualities that have made the Mathesons a formidable representative of both buyers and sellers in the Scottsdale and Paradise Valley markets. The team uses their experience, education, and exceptional attention to detail to provide a very high level of service to their clients.
Says client Dr. Werner Bonadurer, "I have been doing private real estate transactions not only in the US but also abroad. What differentiates The Matheson Team's approach most is their outstanding after-the-sale service. I always felt that they were there for the entire family and make transitioning from one location to another so much easier. Don and Jenny Matheson offer great value from start to finish and beyond. Don even helped improve my golf game in the beautiful Valley of the Sun."