If you're looking for the best place to retire, Scottsdale, Arizona is it. With its year-round sunshine, great sense of community, and plenty of things to see and do, Scottsdale is an ideal place to unwind after working hard for decades. Here are 11 of the best communities in Scottsdale to retire in.
The most popular places to retire in Scottsdale include:
Here's a closer look at each.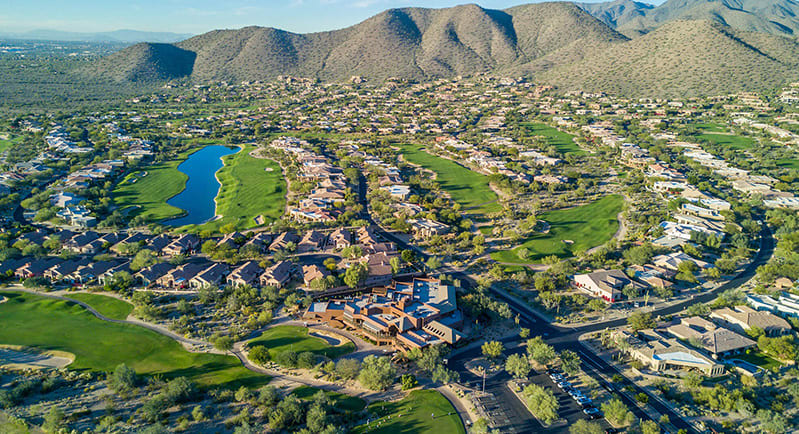 Place #1 to Retire in Scottsdale: Ancala
Ancala
is a guard-gated community of luxury homes in Scottsdale. Spanning 850 acres of the Sonoran Desert and featuring breathtaking views of the McDowell Mountains, Camelback Mountain and so much more, this community may be the perfect place for you to retire.
Homes in Ancala
Homes in Ancala range in price from around $2 million to over $5 million. There are several different types of homes to choose from, such as single-family homes, villas and estate homes.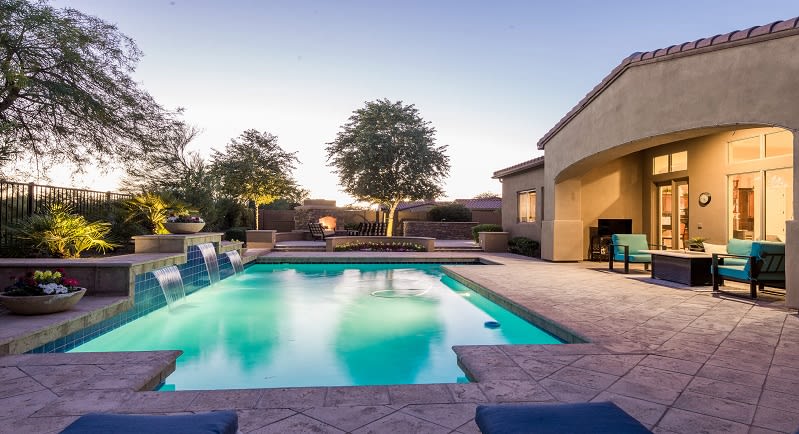 Place #2 to Retire in Scottsdale: Cactus Corridor
The
Cactus Corridor
is one of Scottsdale's most desirable places to live. Featuring upscale homes, world-class shopping and dining, and plenty of things to do, this community is ideal for retirees.
Homes in Cactus Corridor
Homes in Cactus Corridor were originally built in the 1940s, and back then, they included horse stables and rings. Today, the area is populated with newer homes – but there are still plenty of multi-use trails where people walk, jog, bicycle and even ride horses.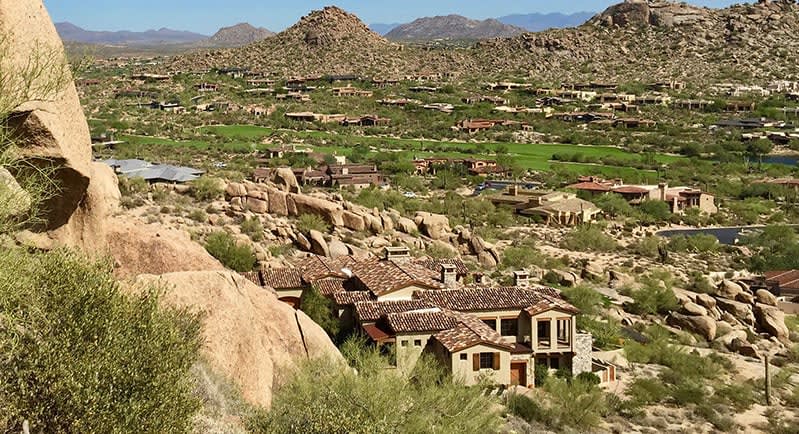 Place #3 to Retire in Scottsdale: Estancia
Estancia
is a community built on 640 acres of land, and you'll find that its central theme is luxury. There's a private Golf Club within this community, as well, and it's nestled against the beautiful backdrop of Pinnacle Peak and the Sonoran Desert.
Homes in Estancia
The homes in Estancia, which is one of America's most desirable private golf communities, range in price from just over $3,000,000 to over $10,000,000. These custom homes are among the most spacious and well-appointed in all of Scottsdale.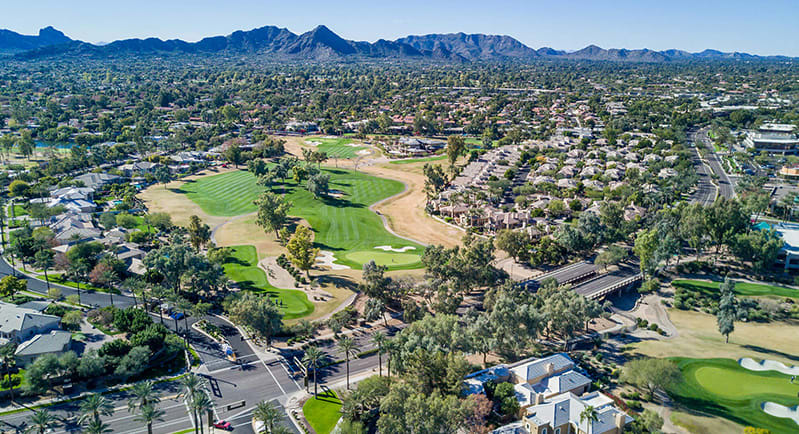 Place #4 to Retire in Scottsdale: Gainey Ranch
Gainey Ranch
is in the heart of Central Scottsdale, and residents enjoy resort-style living. The community is bursting with amenities, including beautiful fountains, community pools, and golf and tennis. Though it was once an Arabian horse ranch, today, it's a thriving community that's close to the best shopping and dining experiences that Scottsdale has to offer.
Homes in Gainey Ranch
The homes in Gainey Ranch include condominiums and townhomes, as well as single family homes and estates. It's possible to find homes ranging in size from around 900 square feet to more than 7,000 square feet, so there's truly something for everyone in this community.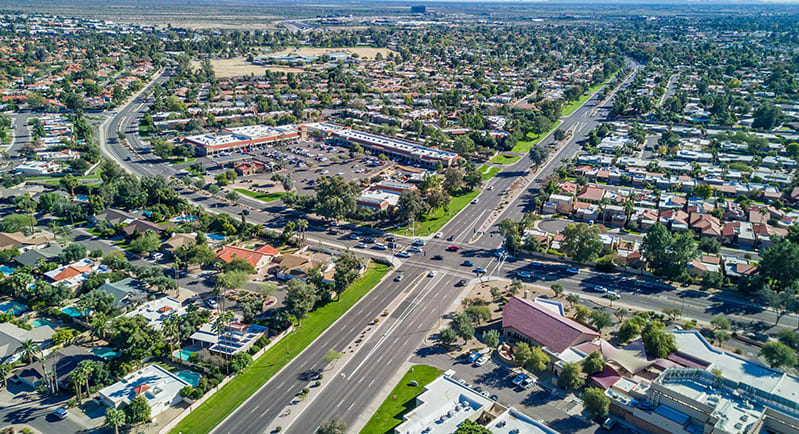 Place #5 to Retire in Scottsdale: McCormick Ranch
McCormick Ranch
is one of the most well-known communities in Scottsdale. With more than 27,000 residents, the amenities are second-to-none. You'll find more than 25 miles of bike paths and walking trails, and the community is only a few minutes' walk from some of the best commercial shopping and dining areas in the city. There are ten lakes within the community, all available for residents to enjoy.
Homes in McCormick Ranch
McCormick Ranch dates back to the 1940s, when, like other communities in the area, it was an Arabian horse farm. my you'll find townhomes, condos, single-family homes and estates. There are nearly 70 different subdivisions within McCormick Ranch, and many feature waterfront and golf course homes, as well.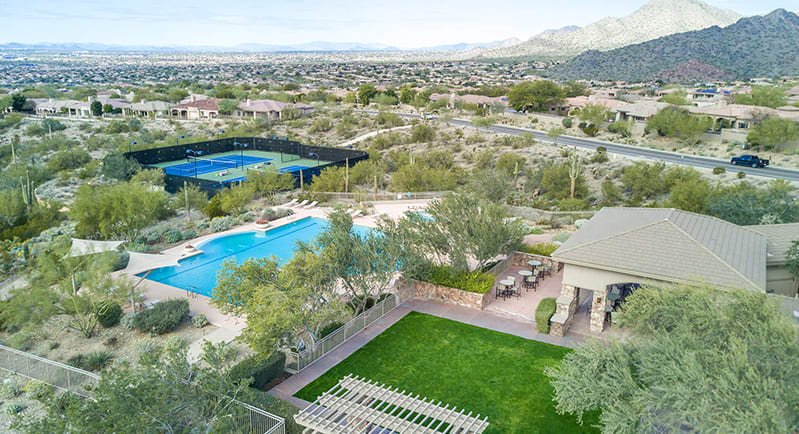 Place #6 to Retire in Scottsdale: McDowell Mountain Ranch
McDowell Mountain Ranch
is the master plan community and has 3200 sprawling acres. Because it's nestled in the foothills of the McDowell Mountains, residents enjoy miles of trails, as well as a number of other amenities, including playgrounds, a 5-acre park featuring green areas and picnic spots, and a thriving community center.
Homes in McDowell Mountain Ranch
Most of the homes in McDowell Mountain Ranch or built between 1998 and 2003. There are 26 neighborhoods comprising around 4,000 homes within this community, and they're available in a wide range of styles, sizes, and price ranges. You'll find luxury townhomes and condominiums, single-family homes, custom homes on the hillsides, and more.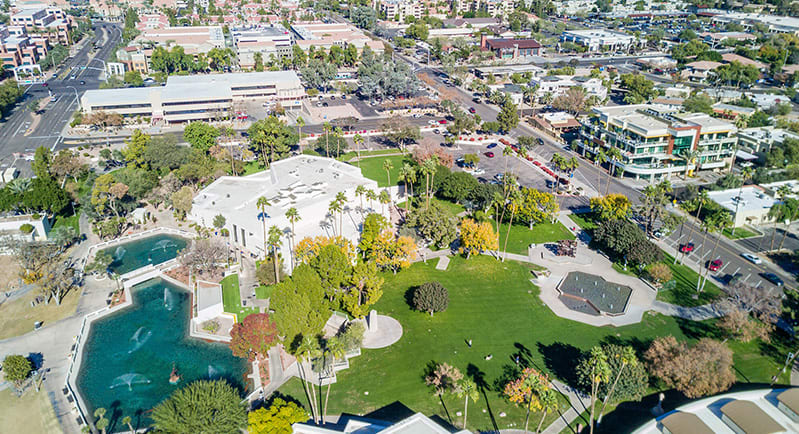 Place #7 to Retire in Scottsdale: Old Town Scottsdale
Old Town Scottsdale
is in the heart of it all. It's close to shopping, dining, and entertainment, and the community is loved by people of all ages. Whether you're looking for a condominium or a single-family home, you'll be able to find you are a dream space in or close to Old Town.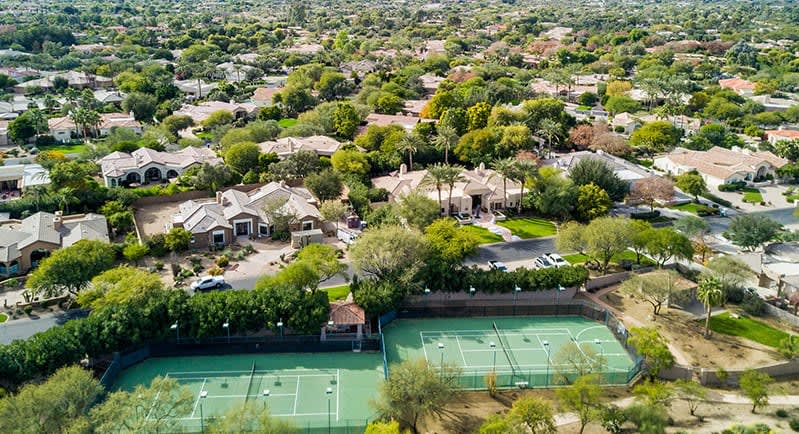 Place #8 to Retire in Scottsdale: Paradise Valley
Paradise Valley
is it truly spectacular community. It's actually a small town featuring more than 5,000 homes for more than 13,000 residents. Because Paradise Valley is a tourist destination, there are 12 resorts within the community, which borders Camelback Mountain and Piestewa Peak. This place truly is paradise, and it's known for its small-town feel with access to big-city amenities.
Homes in Paradise Valley
There are several home styles in Paradise Valley, but most are custom builds. The price range in this community typically starts in the mid-$5,000,000 area and goes up from there.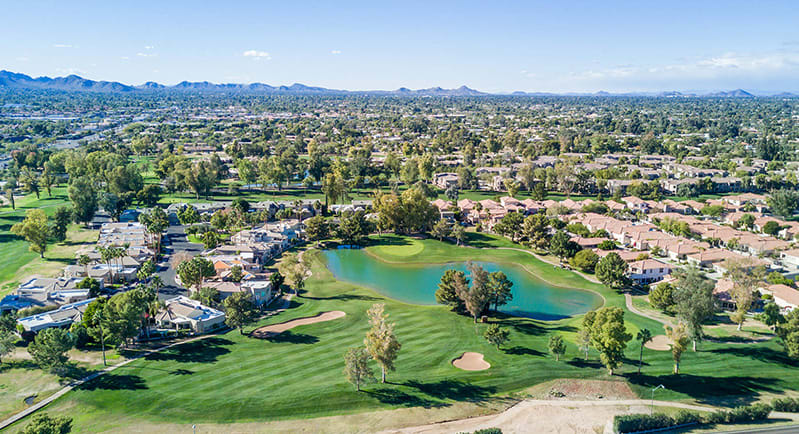 Place #9 to Retire in Scottsdale: Scottsdale Country Club
The
Scottsdale Country Club
is one of the most desirable places in the city to retire, and for good reason. The community is built around the Starfire Golf Club, And most homes have golf course or mountain views. Because of this community's convenient location (it's just a few minutes from the Scottsdale Airport and Phoenix Sky Harbor Airport), and because of its many amenities, people wait their whole lives to live here. The amenities within this community, which has several distinct neighborhoods, include resort-style pools, spas, clubhouses and exercise spaces.
Homes in Scottsdale Country Club
The homes in Scottsdale Country Club range in size from around 1,600 square feet to just over 4,700 square feet, and they're all built for comfortable living. Most of the homes here were built between 1986 and 2001.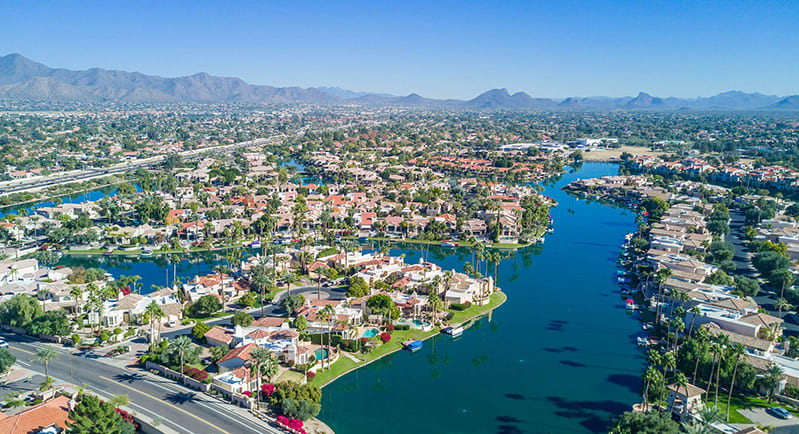 Place #10 to Retire in Scottsdale: Scottsdale Ranch
Scottsdale Ranch
is known for its luxury living. Spanning 1,100 acres, this community encompasses the beautiful 42-acre Lake Serena, which is stocked with bass and catfish. All residents are welcomed to fish and boat in the lake using their own watercraft. The community is also home to the Scottsdale Ranch Park and Tennis Center, which includes tennis courts and racquetball courts, a squash court and sand volleyball courts. There are also two basketball courts and lighted baseball fields. You'll also find several other amenities located on the grounds of this community, including the Desert Garden Park, schools, and more.
Homes in Scottsdale Ranch
The homes in Scottsdale Ranch were mostly built between 1985 and 1999, and they include custom lakefront homes, private patio homes and townhomes. The price points range between $500,000 and upward of several million.
Place #11 to Retire in Scottsdale: Troon North
Troon North
, on the north side of Scottsdale, is one of the city's most well-known golf communities. Just moments from the Pinnacle Peak mountain preserve and miles of hiking trails, the community itself features basketball courts, tennis courts, a children's park and turfed play area, and plenty of ramadas to enjoy the shade. This 1,800-acre master-planned community is also home to the Four Seasons Resort Scottsdale at Troon North.
Homes in Troon North
The homes in Troon North range from gorgeous townhomes to spacious custom homes. There are still a handful of custom homes being built each year, but most of the homes were built between the 1990s and early 2000s.